Interior Design & Decorative Painting Services in Saratoga, Albany and Adirondack Areas
Interior Design
Providing thoughtful guidance and attention to detail while staying mindful of your budget. Whether you choose in-person design help or E-design, our services include:
Furniture, area rug, window treatment selection
Space planning & furniture layouts
Lighting, accessory & art sourcing
Kitchen & bath design selection
Flooring, tile & hardware finish selection
Color direction & paint finish consultation
Home redesign – repurposing and styling of existing furniture and items
Each project starts with a focus on the aesthetics of your space and requirements for your lifestyle. After taking into consideration your existing surroundings and discussing your personal taste to create a wish list, product selections and layouts are presented to give you a current, comfortable space you can enjoy.  Depending on what the project requires, we can also accompany you on visits to design vendors to ensure the right selections are made for any remodeling or new build projects. This includes, flooring, tiles, countertops and cabinetry.
E-Design 
If you are confident in executing a design plan on your own, the E-design option is a good choice. A perfect solution for when you want fresh ideas or need inspiration but don't need an in-person designer. Using email, video conferencing and phone calls we work together to figure out your plan. After receiving your measurements, inspiration photos and parameters we will provide design boards, installation guides, a shopping list and links to products.
Interior design fees for both methods are subject to the scope of the project and can be estimated after our initial discussion. Please reach out to get more information  about the best method for you!
Decorative & Specialty Paint Finishes
You will be amazed by what can be created with paint! The possibilities are endless for your walls, ceilings and floors! Modern metallic glazes, layered stencils, faux wood, marble and stone and embedded plasters will transform your surroundings and add interest to your rooms. Custom decorative paint finishes are durable, don't have seams and can be coordinated with your colors and décor. Layered plaster and dimensional finishes are great for hiding surface flaws and add dimension. The Studio also offers decorative finish restoration and repair.
The initial consultation to go over project parameters is always complimentary. Initial quotes can also be done virtually based on photos, desired finish and dimensions of the project space. Cost is determined by size of project, intricacy of finish and cost of materials and equipment needed. A deposit is required to hold project dates, create design boards and purchase supplies.
Custom Murals
Murals are a great way to introduce a unique piece of artwork into your home or office. The options are only limited to imagination and creativity! Designs can be painted on walls and ceilings, as well as on canvas or other materials so the pieces can be taken with you if needed. A true collaboration of ideas – coloring, motifs and sizing will all be discussed to ensure you are left with an amazing focal point for the space.
The first visit is complimentary and includes a discussion of the design parameters. Cost is based on complexity of design, size, location of mural and equipment required. Preliminary sketches and colorings are included in overall cost. Initial quotes can also be done virtually based on photos, design references and dimensions of the project space. A deposit is required to hold project dates, create design/sketches and purchase supplies.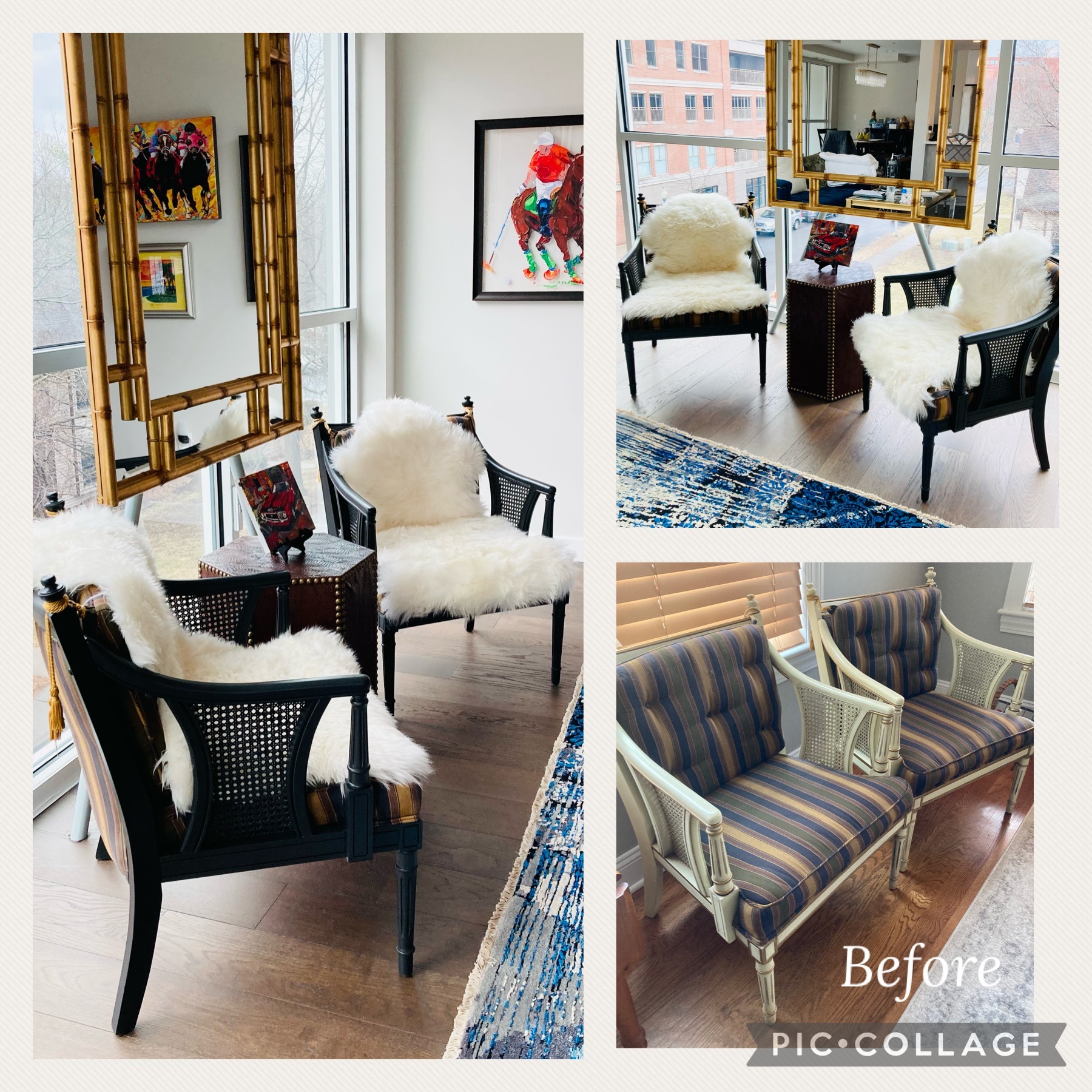 Custom Furniture Painting
Get more out of your existing furniture with a custom paint refinish! You can spend more buying new wood furniture from retail stores or you can paint your existing furniture for a fraction of the cost. Offering standard paint finishes as well as specialty paint effects, decorative painting and stenciling to any surface including unfinished items.
Initial quotes are generally provided based on photos of your furniture pieces.  Photos can be emailed to [email protected].
Cost is based on type of finish, number of doors & drawers and condition of the  furniture piece. A deposit is required to hold project dates, create color samples and purchase supplies.
Get in Touch and Let us Help you Plan your Next Design Project!